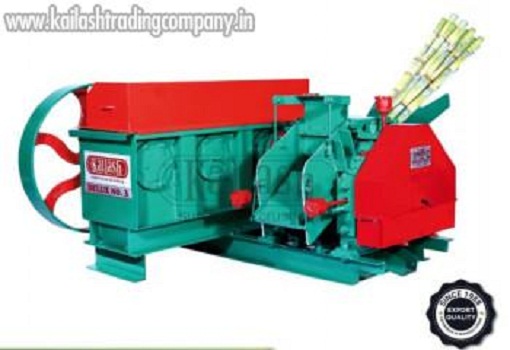 The Single Mill Sugarcane Crusher consists of three roller mills, grooved rollers with underfeed toothed roller and Donnelly type chutes for feeding of cane to Mill.
The bottom roller would be provided with the juice rings and removable guards to prevent the entry of juice into the bearings. The cast steel top pinion is keyed to the shaft and appropriate mild steel guard and troughs providing. The bracket for roller bush bearing would be of cast steel with gunmetal bush with water cooling measures.

Points to be considered before purchasing the single mill sugarcane crusher

Each crusher shall be noticeable with the following info on a metallic plate rigidly fixed at protruding place on the crusher:
a) Manufacturer's name and trade-mark if any;
b) Model, code and serial number;
c) Capacity, in kg/hour;
d) Power requirement (for power-operated only) and
e) Optional revolution per minute (RPM) of king roller and its way of rotation.

Each roller trim with axle shall be marked visibly with the following details:

a) Manufacturer's name and trade-mark if any;
b) Size (diameter and length);
c) Diameter of the axle; and
d) Code or Batch number.
BIS Certification Marking
Each crusher may also be noticeable with the Standard Mark.
The usage of the Standard Mark is administered by the provisions of Bureau of Indian Standards Act, 1986 and the Rules and Regulations made thereunder. The particulars of situations under which the license for the use of the Standard Mark may be approved to manufacturers or producers may be attained from the Bureau of Indian Standards.

PACKING

Packing of the crusher and it done to safeguard the crusher handling and transport. Components shall not be -from damage during

Types of sugarcane crusher supplied by Single Mill Sugarcane Crusher Supplier

• Deluxe smart double mill, sugarcane crusher
• Deluxe heavy with planetary gearbox & motor, sugarcane crusher
• Deluxe heavy with planetary g/box sugarcane crusher
• Planetary gearbox & motor and jumbo heavy sugar cane crusher
• Double mill planetary gearbox & spring sugar cane crusher

Advantages of purchasing advanced single mill sugarcane crusher by Single Mill Sugarcane Crusher Exporter

• Reduction in Manpower
• Savings in Steam (and Water) consumption
• Savings in Electrical Power consumption
• Increased percentage extraction
• Improved reliability in plant operation

Idea qualities in a sugarcane crusher

• It has the functionality of two rollers, three roller & four rollers, power-operated, horizontal sugarcane crushers specially designed for higher extraction & 100% output in single or two passes.
• Sugarcane crushers are built on sound engineering principles for the complete satisfaction of customers.
• Roller, side plates, top plates & bearing holder are made from food-grade stainless steel material.
• All gears are hardened & ground gives longer life & stands against all frictions & crushing force.
• All types of sugarcane crushers are driven with the help of a branded chain. One extra chain with lock is provided with every crusher.
• Gives maximum utilization of power.
• Must become with the quality of being sound proof & 100% safe.

Qualities of a good Single Mill Sugarcane Crusher Manufacturer

• Quality approved product
• Engineered products with great innovation
• Products offered at a reasonable cost
• Excellent strength and capacity
• Superior finish.