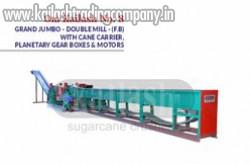 If you want to create your own sugarcane juice company, buy a double mill sugarcane crusher. A lot of juice will be available to you quickly thanks to this machine's quick and effective design. This sugarcane crusher can be used either manually or with an electric motor, depending on your preference.
India has a large population that consumes juice. Many people in the nation have made selling sugarcane juice their primary source of income. Several sugarcane juice extraction equipment is readily accessible on the market and can be used to effectively extract sugarcane juice.
The sugarcane juice crusher equipment was developed in the past and is still in use now. Yet, the newest models made available by the top producers of sugarcane crushers use new materials and technology. These guarantee improved extraction via the machine's performance.
Its sturdy and hygienic stainless steel body is one of this machine's most notable qualities. The equipment will remain in operation for many years to come thanks to this material's anti-corrosion properties. The double mill sugarcane crusher is accessible to everyone due to its user-friendly design and straightforward structure.
Benefits of Double Mill Sugarcane Crusher
Extraordinary Juice Extraction Capacity
The robust design of these units guarantees that each model is offered by the suppliers. Each one of them operates to the fullest double mill sugarcane crusher extent of its capabilities. A bigger amount of sugarcane juice may be extracted by these equipment.
Notwithstanding the amount of juice to be harvested or the complexity of the machine's design, the entire process is managed effectively. As a result, you can easily and quickly meet clients' requests.
Cutting-edge Technology Is Used
All of the machines are displayed by a top exporter or supplier of sugarcane juice machines. They include heavy-duty sugarcane juice crusher, semi-automatic sugarcane juice crusher, max sugarcane juice machines, 10HP sugarcane juice machines. Many more are created using cutting-edge technology.
They make sure that the producer creates these equipment with high-quality raw materials. Sugarcane juice equipment is lightweight and portable, making it simple to assemble and disassemble. Because of this, they are simple to install wherever you like. Furthermore, the device is easily cleanable and disassemble if necessary.
Conserve Energy
Your energy expenditures will go down because of the double mill sugarcane crusher's reduced energy use. Your firm will make more money thanks to them.
In addition, these machines undergo the strictest level of quality control to guarantee their perfection before being delivered to the user end. These machines operate more easily and extract juice with the help of cutting-edge technology. The line of machines is superbly designed and packaged. This is done to ensure that the machines arrive at the consumers in perfect condition.
Conclusion
The technological aspects of a double mill sugarcane crusher that were improved over time included the material used in its development. The juice extraction capacity, the power consumption, the hygienic state of the juice during extraction, storage, design, maintenance are also involved.